Journalistic
A pristine Micro Journaling app with minimalistic design and powerful insights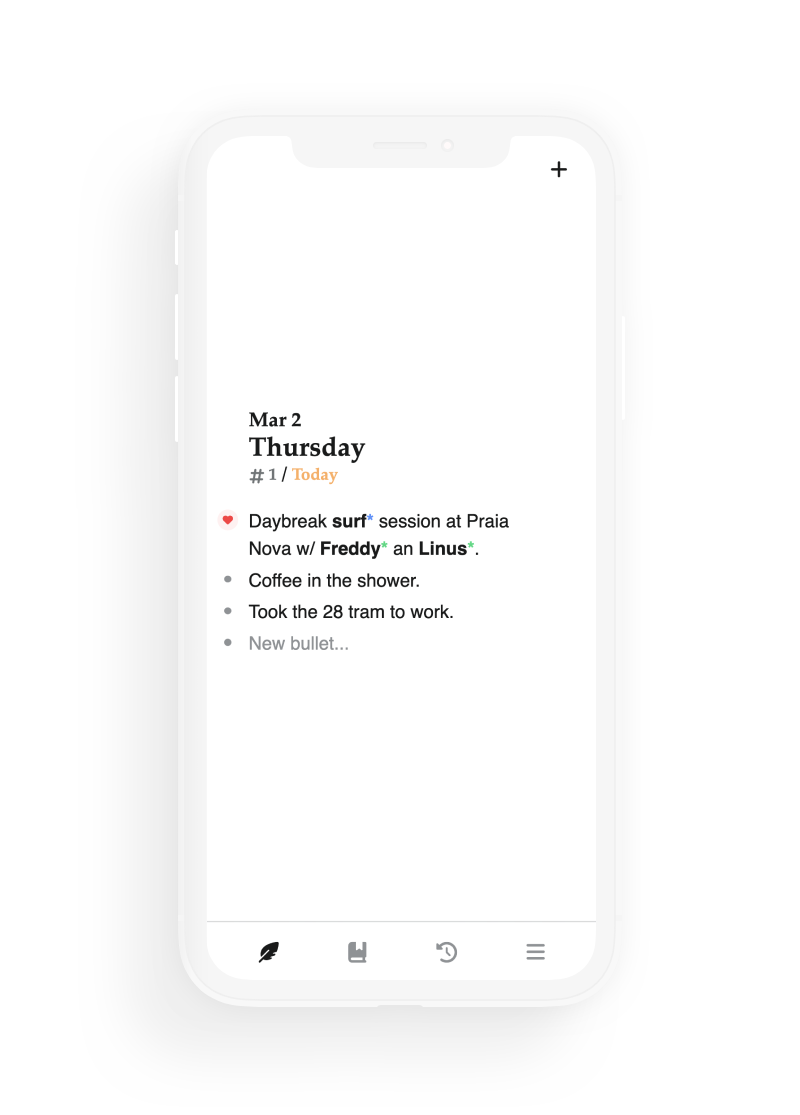 Simplicity is the ultimate sophistication.
— Leonardo da Vinci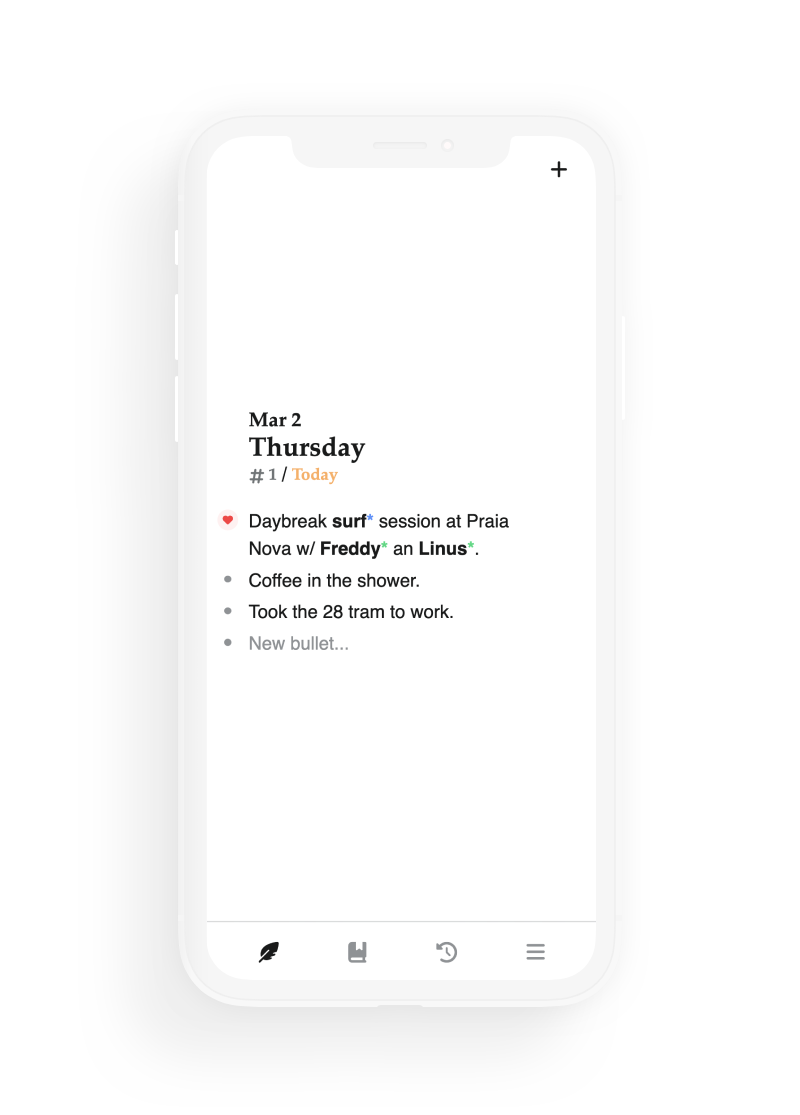 Write
The simple act of taking a thought and converting it into writing spawns awareness and clarity.
Reflect
Looking back at past events and experiences with hindsight is the key to progress and growth.
Keep track
Simply use Twitter syntax to tag activities and mention people in your journal. Tap on bullets to enshrine highlights. Tags and mentions are private, only you can see them.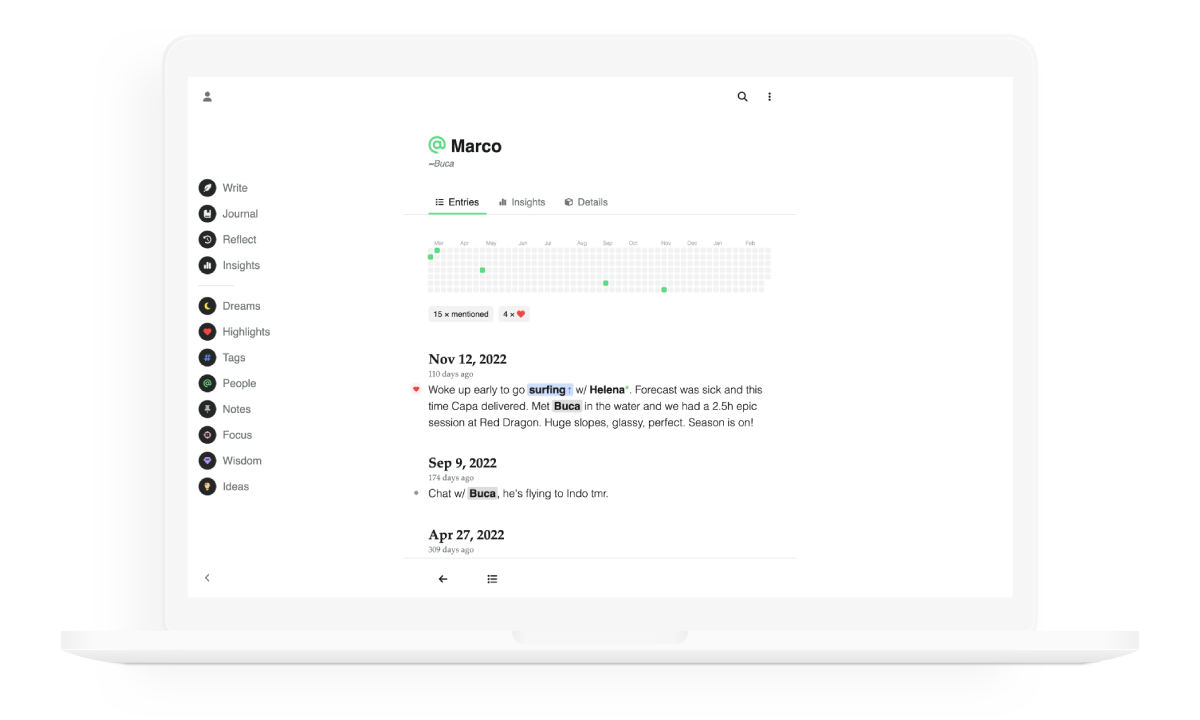 Highlights
The moments that make life worth living.
Tags
Activities and events you want to keep track of.
People
Your social circle and -interactions.
It is vain to do with more what can be done with less.
— William of Occam
Dreams
Log your nightly adventures together with your daily entries.
Notes
Take it beyond bullet points and add monthly recaps, book summaries, etc.
Wisdom
Collect the great thoughts, quotes, facts, excerpts, and lessons.
Focus
Prioritize goals and lock your attention in on the ones that are truly important.
Ideas
Save all your ideas in one place, ponder about them, and conceive solutions.
Insights
While you go about your day, Journalistic crunches data and compiles meaningful insights from patterns hidden in your writings.
Explore metrics like...
How many words do I write per day?
How many highlights did I book this month?
On which weekdays do I dream most often?
When did I first meet that one friend?
When was my last skiing day?
At what time of the day do I usually write?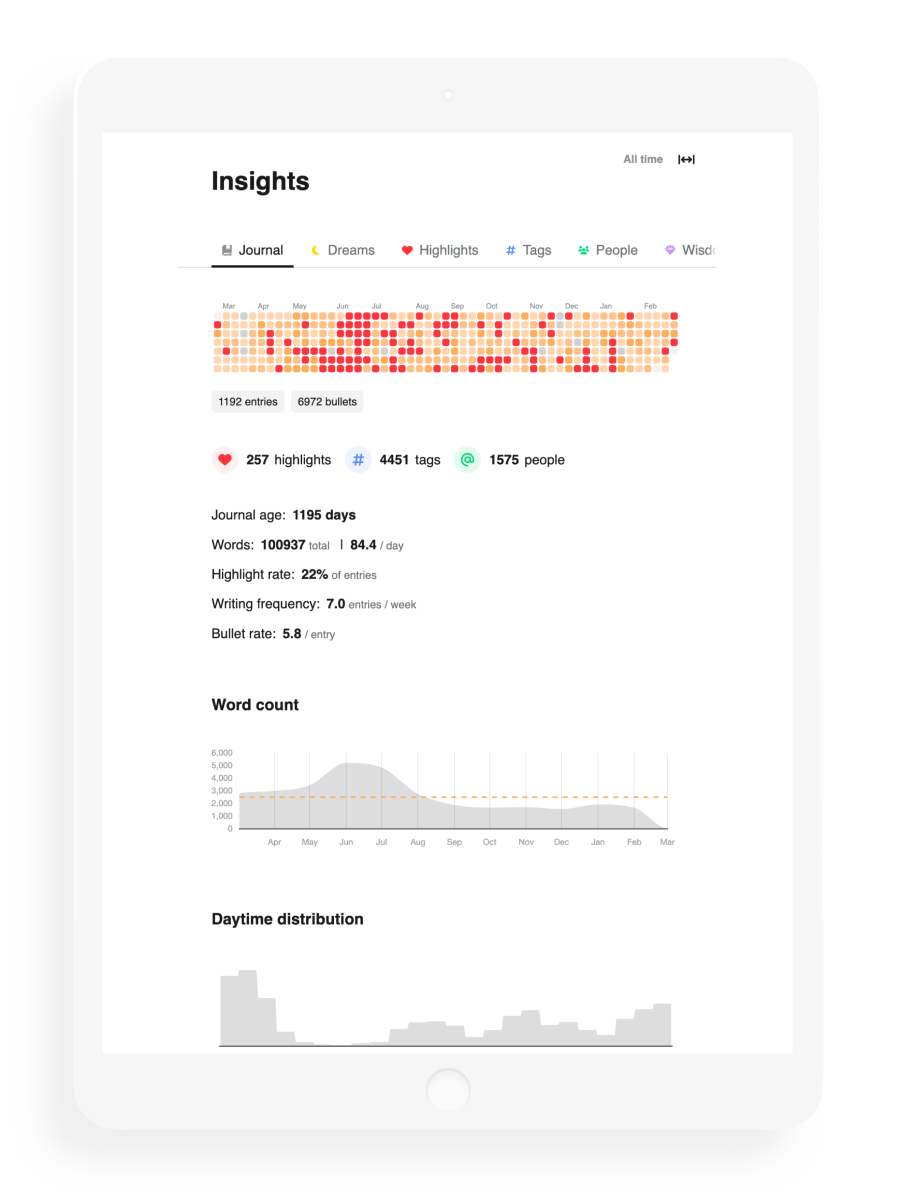 FAQ
What is micro journaling?
A micro journal is essentially a bullet journal with a focus on a minimalistic writing style. Keeping the word count low leads to deep reflection and focus on the important things.
Why should I start a journal?
Keeping a journal is all about awareness and focus. Both writing and recapping daily logs help you reflect upon your relationships, accomplishments, goals, and life in general. Check out our post "Some Good Reasons to Journal Daily" for more good reasons.
What is the advantage of a journaling app over a paper journal?
In terms of writing experience, certainly nothing comes close to physical writing. However, a journaling app has the advantage of always being with you, and while searching things and aggregating insights can be very tedious with a paper journal, an app can make it easy as pie.
Is micro journaling suitable for beginners?
Yes, it requires substantially less time than traditional journaling, which makes it easier to establish a journaling habit.
Can I use a micro journal together with my traditional journal?
Absolutely! If you have the time, using both a micro journal and a traditional journal in parallel is ideal.
Is the Journalistic app available for Android and iOS?
Yes! Journalistic is a Progressive Web App (PWA), meaning you can install it on Android, iOS, and Chrome just like a native app. Journalistic is also available as a native Android app in the PlayStore and might come as native iOS app to the AppStore at some point.
How can I install the Journalistic app on my device?
Check out our "Installation Guide" and you'll be up and running in less than a minute.
Can I export my journal entries?
Yes, you can download all your journaling data easily in text (.txt), markdown (.md), and JSON (.json) format.